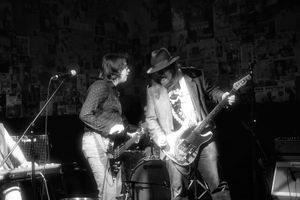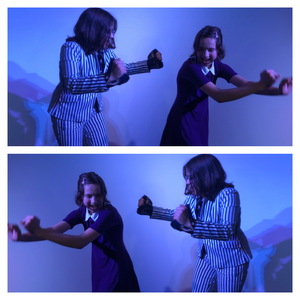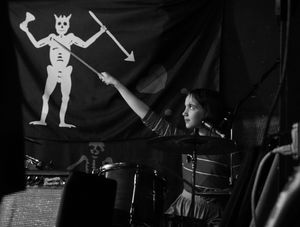 BUY
All The Time In The World
Secret Monkey Weekend
The debut album! Produced by Don Dixon, 11 original songs written by Lila, Ella & Papa Jefferson.
Read more…
0:00/3:30

0:00/3:10

0:00/2:22

0:00/4:10

0:00/2:31

0:00/3:55

0:00/3:10

0:00/3:04

0:00/3:31

0:00/3:30

0:00/3:02
All The Time In The World: Vinyl
Orange vinyl - limited edition of 'All The Time In The World"
Read more…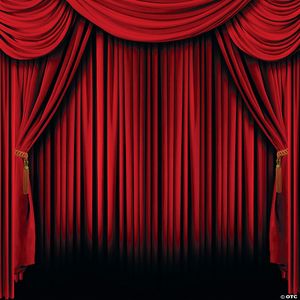 ALBUM
"Secret Monkey Weekend is made up of three distinct characters.  When I first met Lila, she was so shy she could barely look at me but even then she had a confidence behind her drum kit that contradicted this apparent shyness. On the other hand, Ella was look-you-in-the-eye confident from the first time I met her and she has pushed herself to learn everything she can about music.  I had known Jefferson for decades but not well. I wasn't prepared for his tremendous talent as a writer, player and singer nor his quiet, positive, egalitarian approach to creating this band. 
These three individuals have combined to make a collective something I love.  A family band.  A band that has grown literally and figuratively in front of my eyes over the past few years.  And now they've got all these great songs and they've let me help them make a wonderful album." - Don Dixon
"Jeff's guitar and songwriting skill made starting a group with his adopted daughters Ella and Lila Brown a natural—he's been a driving force in Americana music in North Carolina since the 1980s.  Live, they cut a confident profile, locked together musically like a jigsaw puzzle. They've played every gig they can, from school carnivals in North Carolina to pubs in England. Along the way, they've written some very cool tunes. Secret Monkey Weekend songs are smart, simple and summery, with great grooves like "Honey Num" that feel cozy and familiar, or maybe a tune like "Maybelle" that moves your feet before you know it. Make no mistake: this is a BAND record. In seven years together, SMW's focus has been to become ready to record an album, and so they've become tight, intense and proficient, and have created All the Time in the World, the solid and sterling debut album by Secret Monkey Weekend." - Peter Holsapple - the dB's, Continental Drifters
"The best rock and roll is made by kids. Elvis was 18 when he recorded "That's All Right". Paul McCartney was 16 when he wrote "Love Me Do".  Tommy Stinson was 14 at the time of The Replacements' debut. There is something to be said about the innocence and idealism we all had at that age and Secret Monkey Weekend have captured that spirit, harnessed and put it all on tape, with the help of legendary producer and musician Don Dixon. 
I never thought I would hear a band that sounded like a teenage girl fronting NRBQ but this is it and wow did I need this in my life! Fascist Blood Baby, Honey Num, and Greater Mind To Walk Away are all songs that I hold close and I have a feeling you will too. It's that good! Rock and Roll made by teenagers (and Jefferson) for the world is as beautiful as you can imagine. Like ABBA once sang Thank You For The Music." - Jonathan Scott - The Doleful Lions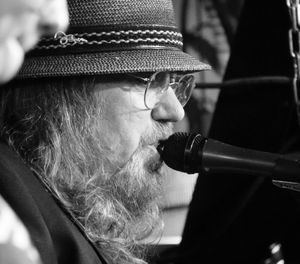 bandcamp
All The Time In The World
Secret Monkey Weekend
Produced by Don Dixon (R.E.M. - The Smithereens, et.al.) Recorded at The Fidelitorium in Kernersville NC. 11 original songs written by Lila, Ella and Papa Jefferson.
Read more…
0:00/3:30

0:00/3:10

0:00/2:22

0:00/4:10

0:00/2:31

0:00/3:55

0:00/3:10

0:00/3:04

0:00/3:31

0:00/3:30

0:00/3:02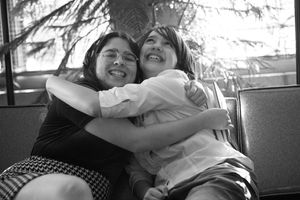 contact us / donate
TIP JAR
AT A SHOW? LIKE WHAT YOU HEAR? TIP SECRET MONKEY WEEKEND!
Enter the amount you wish to donate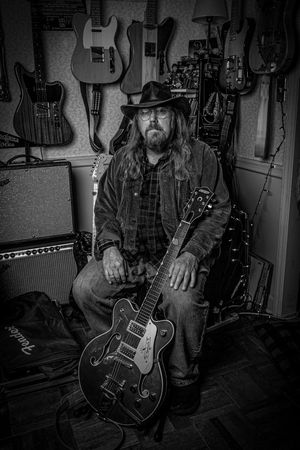 photos
Photos by Kim Hawks, Ricky Garni, Bill Reaves, Herb Campbell, Taylor McDonald, Daniel Coston, Bob Johnson, John Bare, Laura Hart, Jefferson & Lila.
Share photo gallery